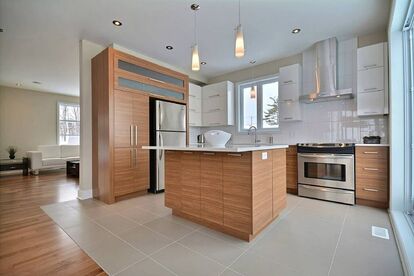 Melamine for your kitchen cabinets.
Melamine is a panel of wood particles, on which is glued a decorative paper coated with melamine resin. This product is available in a wide variety of colors and textures. Melamine kitchen cabinets offer great value for money.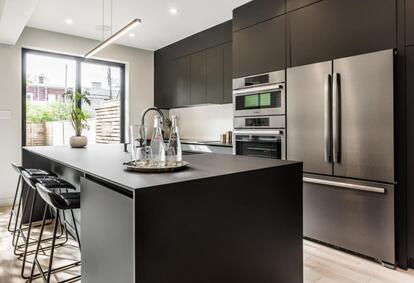 Design of ultra-matte kitchen cabinets
Matte finish kitchen cabinets for a contemporary style kitchen. Ultra-matte products are trendy, innovative and in high demand. We offer a wide range of ultra matte products that will meet your budget. Some are made up of an MDF panel covered with a matt polymer, others use smarter technologies, such as ''Fénix''.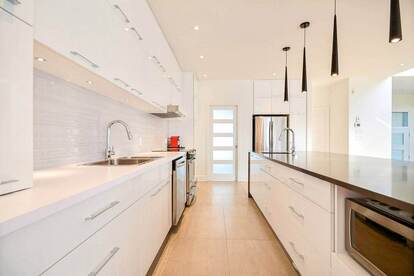 Super Gloss Cabinet Design
High-gloss kitchen cabinets are trending. They offer a one-of-a-kind look. They are composed of an MDF panel covered with an acrylic or a machined polymer. The doors can be presented as a ''Shaker'' door or as a ''Straight'' door. A large choice of glossy colors is available, which will give a contemporary style to your kitchen.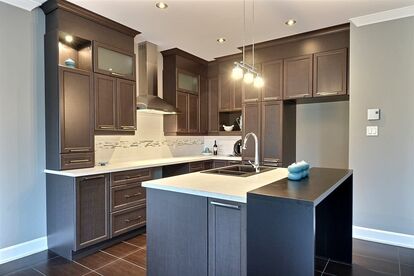 Polyester Kitchen Cabinet Design
The 5-piece polyester kitchen cabinet doors are composed of a melamine center, then surrounded by an MDF frame, itself covered with a laminated decorative paper (polyester). From its classic style, there is a wide choice of colors and finishes.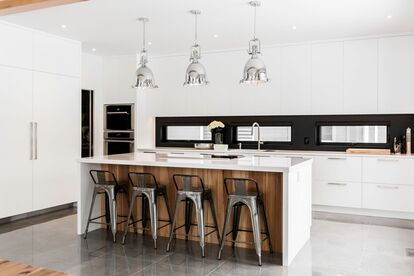 Thermoplastic cabinet design
Thermoplastic cabinets can adapt to any style, from classic to the most modern. Its main characteristic is to offer molded cabinet doors, in one piece and without visible joints. The thermoplastic offers the possibility of ''Shaker'' style cabinet doors or simply ''Straight'' doors.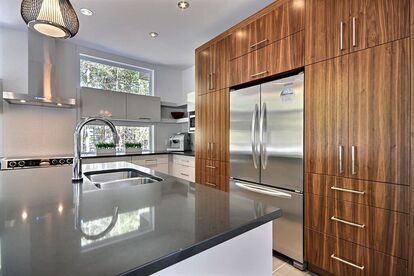 Wood veneer cabinet design
Our wood veneer cabinet doors are ''Shaker'' or ''Straight'' style. Wood veneer offers several styles with its wide choice of wood species. Our wood veneer cabinet doors are fully covered with a color stain of the customer's choice and a polyurethane lacquer ''varnish''. The advantage is to allow a very large decorative choice of wood patterns to create various visual effects that are both personalized and unique.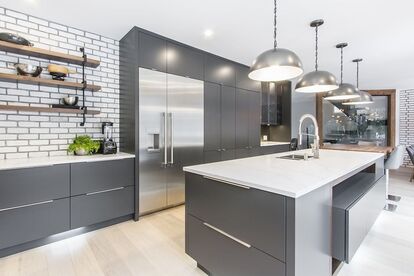 LACQUERED MDF CABINETS DESIGN
MDF (Medium Density Fiberboard) cabinets are made from display wood and woodworking residues. Resin-bonded wood scraps are compressed to form fiberboards of varying thicknesses. These wood-based panels are the ideal material for kitchen cabinet doors intended to be covered with an opaque lacquer.