High-gloss kitchen cabinets are very trendy.
They are composed of an MDF panel covered with an acrylic or a machined polymer.
''Straight'' style cabinet doors in acrylic or polymer are offered in a full range of patterns, colors and quality of glossy finishes. Super-gloss kitchen cabinets are extremely heat, impact and scratch resistant. It is therefore an ally for kitchens with a lot of movement.
Renovate your dream kitchen cabinets today.
Renovate your kitchen now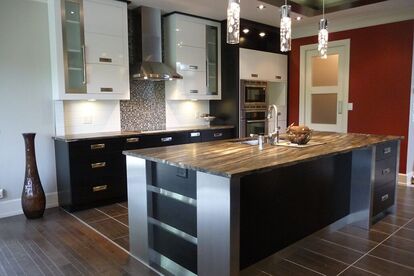 THE SOUGHT-AFTER FEATURES OF GLOSS AND SUPER GLOSS CABINETS
• Unlimited choice
• Uniform color
• No visible joints
• More durable than melamine
• Acrylic highly resistant to UV rays
• Easy to maintain
• Glossy finish for a lower cost
• Best warranty
Discover our wide range of high gloss kitchen cabinets. The specialists at Agly Cabinets are at your disposal for any advice on the choice of materials and the finish of your cabinet doors and your glossy cabinets or any other material, and will help you make the right choice!
CONTACT OUR KITCHEN DESIGNERS
Contact our specialists, we will take the time necessary to evaluate your project. Come visit our showroom in Terrebonne to discover our selection of glossy cabinets. We offer a free in-home estimate.