Custom-made polyester kitchen cabinets
Polyester Kitchen Cabinets
The 5-piece polyester cabinet doors are composed of a melamine center, then surrounded by an MDF frame, which is covered with laminated decorative paper (polyester). From its classic style, there is a wide choice of colors and finishes.
With its versatile texture, polyester kitchen cabinet doors are a real alternative to MDF cabinets or wood cabinets, offering doors at a lower cost. This is because polyester kitchen cabinets can imitate wooden cabinets very well.
Update your polyester kitchen cabinets today.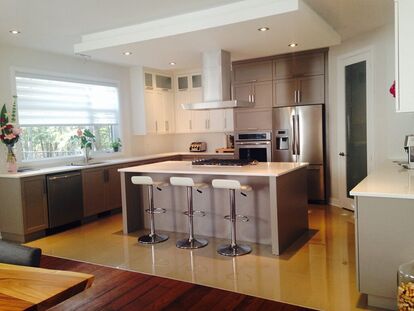 THE SOUGHT-AFTER FEATURES OF POLYESTER CABINETS
• Easy to maintain
• Shock and scratch resistant
• Resistant to heat and humidity
• Resistant to delamination and discoloration
• Solid build
• Modern and classic style
Discover our wide range of polyester kitchen cabinets. The specialists at Agly Cabinets are at your disposal for any advice on the choice of materials and the finish of your cabinet doors and your cabinets in polyester or any other material, and will help you make the right choice!
CONTACT OUR KITCHEN DESIGNERS
Contact our specialists, we will take the time necessary to evaluate your project. Come visit our showroom in Terrebonne to discover our selection of polyester cabinets. We offer a free in-home estimate.