Le bois mdf laqué pour vos armoires de cuisine
MDF (Medium Density Fiberboard) cabinets are made from display wood and woodworking residues. Resin-bonded wood scraps are compressed to form fiberboards of varying thicknesses. These wood-based panels are the ideal material for kitchen cabinet doors intended to be covered with an opaque lacquer.
LACQUERED MDF PANELS AND DOORS
Our custom-made lacquered MDF cabinet doors and panels offer the possibility of personalizing your kitchen by choosing your lacquer colors. Our polyurethane lacquer has the characteristics of being very strong, stain resistant and durable. The opaque lacquer results in a smooth and uniform color final product with either a super matte, matte, velvety or even semi-gloss finish. It is a choice alternative to wood cabinets because they offer the same characteristics. Flawless, solid and very resistant to humidity and temperature changes, they will not suffer deformation and will keep their original shape throughout the life of your kitchen.
MDF offers immense manufacturing possibilities that wood veneer cannot. MDF panels are very easy to work with and there is no risk of breaking during cutting. The design possibilities are therefore endless.
Adherents to sustainable development will be interested in the ecological value of the product because the manufacture of MDF panels does not entail the methodical felling of trees. Wood panels are actually made from wood that would not have been usable in the traditional industry.
Renovate your dream kitchen cabinets today.
Renovate your kitchen now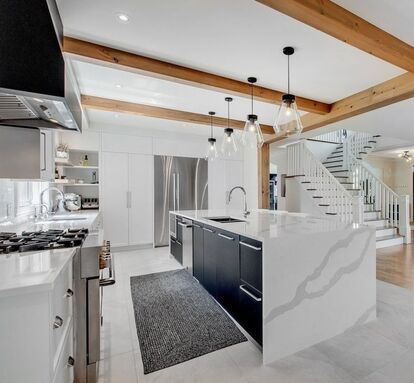 SOUGHT-AFTER FEATURES OF LACQUERED MDF KITCHEN CABINETS
• Sustainable
• Homogeneous (no apparent defect)
• Does not warp like wood
• Environmentally friendly production
• Works easily, therefore offers immense design possibilities
Contact us for more information about lacquered MDF kitchen cabinets. Come visit our showroom in Terrebonne to discover the latest trends: white lacquered MDF, black lacquered MDF and more! Our team of kitchen designers will be happy to answer your questions and support you in your kitchen design project.