THE ADVANTAGES OF A QUARTZ COUNTERTOP FOR YOUR KITCHEN
Quartz kitchen countertops
Composed of 93% stone and 7% resin, quartz is the material most used in kitchens today. Quartz is very hard and smooth and non-porous. It is offered in a multitude of choices of colors and finishes that harmonize perfectly with all styles of cabinets. Whether you opt for a white quartz countertop, a black quartz countertop or even a beige one, our kitchen designers will accompany you in your choice for a harmonious layout.
Quartz guarantees a sustainable kitchen. The advantage of quartz for the kitchen is that of offering a very fine-grained surface with greater uniformity. Quartz has a polished (gloss) or suede (matte) finish and requires no sealer to make our countertops. Its good resistance and low maintenance requirements are also comparative advantages. The work surface is resistant to scratches, shocks and stains (lemon, acids, etc.) thanks to its very low porosity. The quartz-based composite is therefore ideal for preparing food in the kitchen.
Quartz surfaces are ideal for different types of custom furniture, including: kitchen counters, bathroom vanities and counters, bar counters, and other types of custom furniture. Quartz, on the other hand, is not suitable for heat and outdoor use.
Nevertheless, the heat resistance of quartz is moderate. Excessive heat can stain or crack the quartz work surface. Avoid placing a still hot pan directly on the work surface.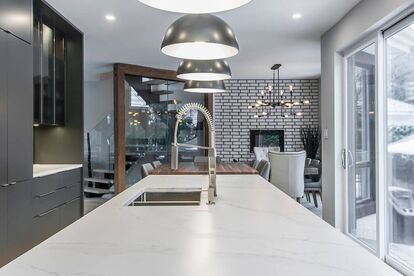 CHARACTERISTICS OF QUARTZ KITCHEN COUNTERS
• Antibacterial
• Non-porous
• Wearing
• Waterproof and non-flammable
• Low maintenance required
WE OFFER A COMPLETE RANGE OF CUSTOM-MADE QUARTZ COUNTERTOPS
At Armoires Agly, we offer you different options of cutouts, finishes and thicknesses for your quartz kitchen counters.
Our designers will advise you on the choice of your custom-made quartz countertops or kitchen islands.
Are you hesitating between a quartz, granite or porcelain countertop? The specialists at Armoires Agly are at your disposal for any advice regarding the purchase of countertops in stone or any other material, and help you make an informed choice!
OUR TEAM OF KITCHEN DESIGNERS WELCOMES YOU TO TERREBONNE
Contact our specialists, we will take the time necessary to evaluate your project. Come visit our showroom in Terrebonne to discover our selection of quartz composites.