The porcelain countertop is distinguished by its ultra-thin appearance, which guarantees a light and very trendy look. Porcelain countertops are said to be the product of the future and given its incredible benefits, it may very well be found more and more in our homes over the next few years.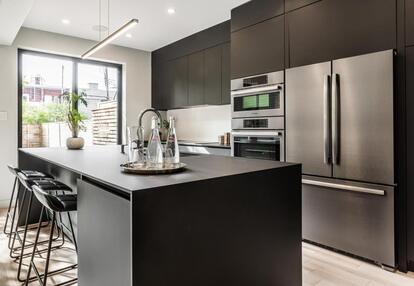 CHARACTERISTICS SOUGHT FOR PORCELAIN FOR KITCHEN WORKTOPS
• Ultra thin (½'' thickness)
• Very low porosity
• Resists heat
• Very hard and resistant
• Waterproof and non-flammable
• No maintenance required
WE OFFER A COMPLETE CUSTOM PORCELAIN COUNTERTOP RANGE
At Armoires Agly, we offer a wide selection of porcelain countertops for your kitchen and bathroom renovation or construction projects: porcelain kitchen counters from the Neolith, Dekton and Laminam brands. There are different color varieties between types of porcelain.
Our kitchen designers will be able to guide you in your choice of porcelain countertop in order to find the desired style.