The benefits of a laminate countertop for your kitchen and bathroom
countertop The most popular countertop on the market, the laminate countertop is offered in a wide variety of colors and matte and semi-gloss finishes. The finish of laminate countertops is either square and molded with or without a backsplash. This wide variety makes it easy to match your laminate countertops with your melamine cabinets.
Resistant and durable, laminate countertops are the most affordable on the market. The work surface of a laminate countertop is easy to maintain. To clean your laminate counter, simply wipe a damp cloth with a little mild soap, then try your worktops with a clean, dry line.
With all the options it offers, laminate is very versatile and fits any design style. Create your imitation wood laminate countertops, imitation natural stone, granite or marble finishes, for a more contemporary, modern or traditional kitchen design. There is something for every taste !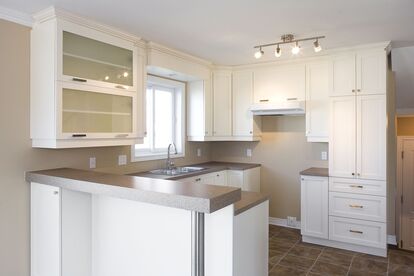 THE SOUGHT-AFTER FEATURES OF LAMINATE KITCHEN COUNTERS
• Economical choice as it suits all budgets.
• Sustainable
• Shock and stain resistant
• Easy to maintain
• Wide choice of colors and finishes
CUSTOM LAMINATE COUNTERTOP MANUFACTURER
We design your custom-made laminate countertops in the factory. Molded laminate countertops are also available in standard profiles.
Our kitchen designers select the most popular laminate colors for you. This wide range of laminates allows you to make unique combinations when designing your kitchen or bathroom and helps you make your choice in terms of style and budget.
Get in touch with our team of professionals who will be happy to answer your questions. Make an appointment to visit our showroom in Terrebonne and benefit from good advice. You will be able to appreciate our vast choice of counters.
At Armoires Agly, we offer a free estimate for your custom laminate countertops.