Granite kitchen and bathroom counters
Granite is a 100% natural stone, it is a very hard stone which is extracted from quarries around the world. Granite is made of quartz, micas, and other minerals. The granite blocks are sawn into slices, which are then polished.
Granite is also a very durable material and unlike Quartz, it is heat resistant. The downside of granite, if there is one, is that it needs to be sealed about once a year. Know that the operation is easy. However, some Quebec granites do not require any sealer. To wash your granite countertop, all you need is a little soapy water or a granite cleaner. Another advantage of granite versus quartz is that granite repairs are more aesthetically pleasing when a professional repairs your countertop.
Granite is a natural stone which makes it an excellent choice when you want to add character to your kitchen. It blends remarkably well with all styles of kitchen cabinets, especially classic styles.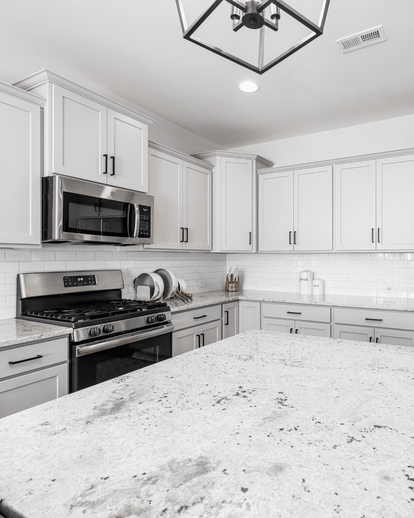 THE SOUGHT-AFTER CHARACTERISTICS OF GRANITE FOR KITCHEN WORKTOPS
• Very low porosity
• Resists heat
• Very hard and resistant
• Waterproof and non-flammable
• Low maintenance required
WE OFFER A COMPLETE RANGE OF CUSTOM-MADE GRANITE COUNTERTOPS
At Armoires Agly, we offer a wide selection of granite for your kitchen and bathroom renovation or construction projects: black granite countertop, white granite countertop, Quebec granite, etc. There are different varieties of colors between the types of granite as well as on the slices of the same block of granite, making each cut of granite unique.
We offer different cutting options, finishes and thicknesses. Our team will assist you in your choice.
Our kitchen designers will be able to guide you in your choice of granite countertops in order to find the best match with the materials for your project.