WOOD VENEER FOR YOUR BATHROOM CABINETS
Wood veneer cabinets offer several possibilities and styles of kitchen cabinets. The veneer cutting process involves cutting a thin slice of wood, called a veneer sheet, which is then glued to a rigid particle board. These panels are used to make vanity cabinet doors. Our polyurethane lacquer has the characteristics of being very strong, stain resistant, anti-yellowing, and durable.
There are different slicing processes that make it possible to obtain different variations and patterns of wood grains which generally come from wood species such as Maple, Ash, Cherry, White Oak, Rif Cut Oak, Walnut and the cherry tree
WE DESIGN WITH YOU YOUR TAILOR-MADE WOOD VENEER BATHROOM CABINETS
Thanks to our know-how, your bathroom cabinet doors will retain their magnificent appearance for many years. Our custom cabinets are designed and manufactured with care. Our wide range of wood species for veneering your cabinets offers you many possibilities to create the bathroom of your dreams.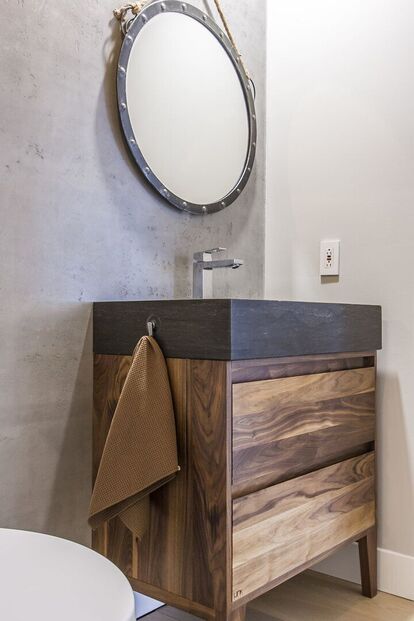 SOUGHT-AFTER FEATURES OF WOOD VENEER CABINETS
• Less expensive than solid wood
• Limit the risk of the doors warping
• More resistant to humidity than solid wood
• Several varieties of wood species available
• Opt for the dye of your choice
OPT FOR WOOD VENEER CABINET DOORS IN YOUR BATHROOM.
Increasingly popular, wood veneer brings warmth to your bathroom. Veneered wood is a good alternative to solid wood. At Armoires Agly, we also offer bathroom cabinets made from wood veneer for any budget! We offer cabinets in natural wood veneer, exotic wood veneer of several wood species and reconstituted wood veneer.
Agly Cabinets takes care of your entire project. Our kitchen designers are at your disposal to design your made-to-measure vanity.
Contact us or visit our showroom in Terrebonne to appreciate our different wood species as well as our wide selection of bathroom cabinets.