Design of ultra matte bathroom cabinets
We offer a wide range of ultra matte products to suit all budgets. Some are made of an MDF panel covered with a matt polymer, others use more sophisticated technologies, such as ''Fénix''. Fénix is an innovative design product that offers aesthetic and elegant solutions to bathrooms. Made of new generation resins, it has the property of having low reflexivity, no visible fingerprints, thermal repair of micro-scratches and offers a silky touch.
Ultra matte cabinet doors make it easier for your vanity to blend into the overall design of your room. The matte appearance of your facades will then be more discreet and sober than lacquered MDF cabinets or super-gloss cabinets, for example.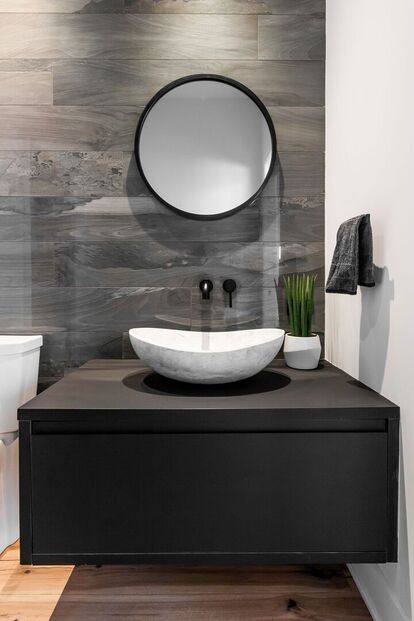 THE SOUGHT-AFTER FEATURES OF ULTRA MATS FOR YOUR BATHROOM CABINETS
• Sobriety and elegance
• Easy to maintain
• High resistance to scratches and rubbing (FÉNIX)
• Waterproof and mold resistant
• Modern and refined style
DESIGN AND MANUFACTURING OF CUSTOM-MADE ULTRA MATTE BATHROOM CABINETS
We custom design the bathroom of your dreams. The kitchen designers at Armoires Agly can advise you on the choice of materials and the design of your bathroom, according to your expectations and your budget. Our kitchen designers are trained in kitchen design. Their extensive experience and expertise allow them to meet each of your requirements and ensure proper project follow-up.
We think with you about the layout of your bathroom: the location of storage spaces and other amenities or even integrated washer-dryer solutions.
We stand out for the quality of our materials, our furniture and our kitchen cabinets. All our ultra matte kitchen cabinets are made in Quebec.
At Armoires Agly, we have a team of experienced installers committed to providing quality service. We seek to fully satisfy our customers, including after-sales service. Agly Cabinets offers you a 3D design service to test the many customization possibilities offered.
CONTACT OUR KITCHEN DESIGNERS
Want to start your bathroom renovation project? Do not hesitate to contact us by phone or email. A wide selection of cabinet and worktop colors are available for your ultra matte kitchen. Come and discover them directly in our showroom in Terrebonne. Make an appointment directly on our site. We offer a free in-home estimate.