Design of Thermoplastic bathroom cabinets.
In recent years, thermoplastic has undergone several transformations, innovations and improvements. Today, thermoplastic is presented in a variety of trendy finishes and colors. It has different satin, matte or glossy finishes.
Thermoplastic bathroom cabinets consist of molded cabinet doors, ''Shaker'' style or ''Straight'' cabinet doors. The cabinet doors are made of an MDF panel covered with a synthetic material that is distinguished by its finish without any roughness or cut marks. Opt for a one-piece molded construction. This style of materials allows a kitchen almost limitless customization.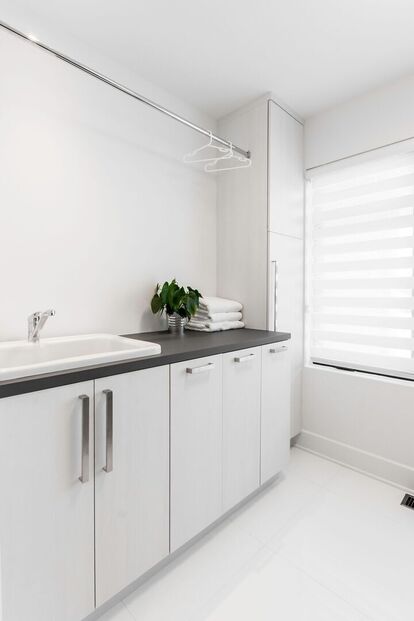 THE SOUGHT-AFTER FEATURES OF THERMOPLASTIC BATHROOM CABINETS
• Unlimited choice
• Uniform Color, No Distortion
• No visible joints
• Excellent humidity resistance
• Highly resistant to UV sunlight
• Easy to maintain
• Best warranty
Discover our wide range of thermoplastic bathroom cabinets. The specialists at Armoires Agly are there to listen to you and offer good advice on the choice of materials and finish for your cabinet doors.
CONTACT OUR KITCHEN DESIGNERS
Contact our specialists, we will take the time necessary to evaluate your project. Come visit our showroom in Terrebonne to discover our selection of thermoplastic cabinet doors. We offer a free in-home estimate.