Melamine for your bathroom cabinets
Melamine is a 16 mm or 18 mm thick particle board, on which is glued a decorative paper coated with melamine resin. In this sense, melamine is very easy to maintain, it is very resistant to stains, shocks, scratches and is very waterproof.
In recent years, melamine has undergone several transformations, innovations and improvements. Today, melamine is presented in various trendy textures, finishes and colors. It has different finishes: matte, glossy, satin; different aspects: smooth or textured; different colours: plain or decorative.
Melamine is a quality and affordable product that meets the requirements of a current and informed clientele.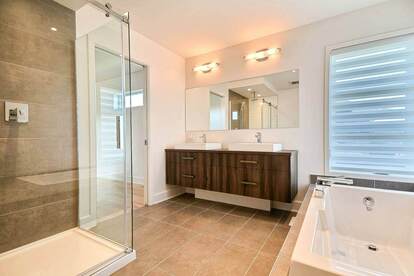 THE MAIN SOUGHT-AFTER CHARACTERISTICS OF MELAMINE
Melamine panels offer many advantages for the manufacture of your bathroom cabinets. Melamine vanities are very affordable, allowing us to offer you turnkey bathrooms at competitive prices. It is also a very easy to maintain material. Simply clean the surface with a sponge or microfiber cloth. We recommend avoiding abrasive products (ammonia) or stripper. Finally, melamine cabinets are highly resistant to breakage, from drawers to cabinet doors. A melamine kitchen is a guarantee of a durable kitchen.
• Excellent value
• Adapts to all budgets
• Good resistance, solidity
• Wood-like texture
• Easy to maintain
• Unlimited choices
CUSTOM MELAMINE BATHROOM CABINETS
At Armoires Agly, we manufacture made-to-measure bathroom cabinets and worktops in melamine. We design, manufacture and install your vanity and storage unit while respecting the agreed deadlines.
Our kitchen designers select trendy melamine panel colors for you, allowing you to create unique combinations. When making your choice, our advisers will help you make your choice in terms of style and budget and will know how to optimize your space.
Come visit our kitchen showroom and take advantage of professional advice and services! We offer a free in-home estimate.